Important information!!! Store work rules during the period from December 19
DEAR CLIENTS!
SIA Latakva Fire Service informs that from December 19:
Distance selling is in progress (ordering goods by phone or ordering by e-mail). Delivery of goods by courier or parcel machines, and you can also pick up goods at 156 Maskavas Street, Riga.
Wholesale trade (goods needed both for retail stores and for economic activities, construction, production, etc.). Delivery of goods by courier or parcel machines, and you can also pick up goods at 156 Maskavas Street, Riga.
Tel.: (+371) 67249249, (+371) 27249249, (+371) 20358170
E-mail: latakva@latakva.com или sales@latakva.com
!!!! ATTENTION !!!!
Both visitors and staff must wear masks when receiving goods.
When receiving the product, a physical distance of 2 meters must be observed,
The allowed number of people at the outlet is 3 people.
Revision door Siniat® Fire-tech El30 (size 700x700 mm, outer frame size 810x810 mm)
Manufacturer: Siniat
Model: Fire-Tech EI60
Siniat Fire-tech® EI60 access panel is designed for mounting in ceilings made of Siniat plaster-cardboard panels. The access panel is made of two frames consisting of two aluminium profiles: external and internal, which is the construction frame of the access panel door. The access panel is filled with two NIDA Fire+ plaster-cardboard panels with a thickness of 2x15.0 mm.
*Product description is based on information provided by the manufacturer about the product. The description and photos are informative, operational changes are possible. In accordance with certain modifications from the manufacturer changes may be made in the description of the product or its parameters.
The filler of the door leaf is NIDA Uguns + plasterboard with a thickness of 2x12.5 mm. A fire-resistant foam seal with a thickness of about 1 mm is glued to the door leaf along the entire perimeter. Frame covering - NIDA Uguns + drywall 2 x 12.5 mm thick. Optionally - you can install a cylinder lock with one or more keys.
The ability to remove the door from the frame guarantees full access to the space in the shaft. Plates form one plane with an aluminum profile frame - no pouring is required. Removable revolving hinges and Mini-Latsch metal locks must be used to install the jamb in the same plane as the door leaf. A cable is attached to the frame to prevent the inspection door from falling.
Related services categories
In your cart
Your shopping cart is empty
Novelty
Outlet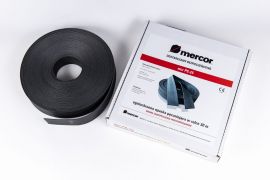 Popular goods