Important information!!! Store work rules during the period from December 19
DEAR CLIENTS!
SIA Latakva Fire Service informs that from December 19:
Distance selling is in progress (ordering goods by phone or ordering by e-mail). Delivery of goods by courier or parcel machines, and you can also pick up goods at 156 Maskavas Street, Riga.
Wholesale trade (goods needed both for retail stores and for economic activities, construction, production, etc.). Delivery of goods by courier or parcel machines, and you can also pick up goods at 156 Maskavas Street, Riga.
Tel.: (+371) 67249249, (+371) 27249249, (+371) 20358170
E-mail: latakva@latakva.com или sales@latakva.com
!!!! ATTENTION !!!!
Both visitors and staff must wear masks when receiving goods.
When receiving the product, a physical distance of 2 meters must be observed,
The allowed number of people at the outlet is 3 people.
Dilatation gap seal Dunaseal 35
Manufacturer: Dunamenti
Model: Dunaseal 35
Fire-protection packing of dilatation gaps.
Warehouse status: on request
(Price per meter with VAT)
*Product description is based on information provided by the manufacturer about the product. The description and photos are informative, operational changes are possible. In accordance with certain modifications from the manufacturer changes may be made in the description of the product or its parameters.
Technical documentation
Function: Fire protection sealing of construction dilatations up to 50 mms.
The Dunaseal sealing unit consists of hardly combustible single- or double layer elastic sponge having 2 or 3 intumescent laminated fire protection strips which create a volume growth in case of fire on this way forming barriers for the fire by filling out the gaps and construction dilatations. The location of units in the gap allows to establish a quick and efficient fire protection sealing in the wall or in the ceiling or within the gaps between the junction of two construction elements. This system is very flexible and thanks to this flexibility it makes the independent moving of the construction elements possible, beside keeping full airtightness.
Technical data:
Width: 35 mm (1 layer of sponge and 2 layers of intumescent laminated strips)
Width: 67,5 mm (2 layers of sponge and 3 intumescent laminated strips)
Substrate thickness (minimum):
120 mm – Concrete walls
125 mm – Walls made of drywall plates
150 mm – Walls built of solid brick and cell-structure concrete walls
150 mm – Ceilings built of reinforced concrete and cell-structure concrete
The way of mounting:
The Dunaseal units serve for the sealing of gaps and construction dilatations up to 50 mm width. Mineral wool with min. 50 kg/m3 density has to be pushed into the inside of the gap leaving a 30 mm free space where the Dunaseal units have to be inserted. For gaps with 10-25 mm width Dunaseal 35 units are to be used, for gaps of 25-50 mm. the Dunaseal 67 units are to be applied. For ceilings, Dunaseal units are to be mounted from below. Two Dunaseal units have to mounted into the wall, from both sides. Dunaseal units are to be mounted in a way that they should face the laminated layer.
Penetrations have to be cleaned from dust and smooth contaminations.
Mineral wool of min. 50 kg/m3 density have to be pushed into the gaps, leaving 30 mm free space.
The unit has to be squeezed and inserted into the space left free, the intumescent layer has to face the wall.
Units can be inserted into the wall from both sides, however, they need to be inserted from below in case of ceilings.
Penetrations have to be marked (– applicator company name, – name of the applied materials, – fire resistance limit, – number of the certification, – application date, – applicator signature)
Related services categories
In your cart
Your shopping cart is empty
Outlet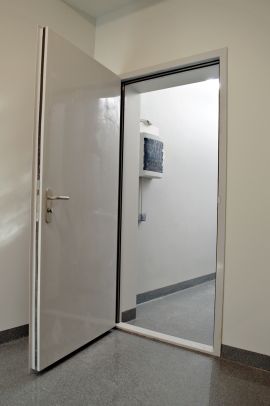 Popular goods