Firestop Collars, Wraps, Tapes and Ventilation blocks
Important information!!! Store work rules during the period from December 19
DEAR CLIENTS!
SIA Latakva Fire Service informs that from December 19:
Distance selling is in progress (ordering goods by phone or ordering by e-mail). Delivery of goods by courier or parcel machines, and you can also pick up goods at 156 Maskavas Street, Riga.
Wholesale trade (goods needed both for retail stores and for economic activities, construction, production, etc.). Delivery of goods by courier or parcel machines, and you can also pick up goods at 156 Maskavas Street, Riga.
Tel.: (+371) 67249249, (+371) 27249249, (+371) 20358170
E-mail: latakva@latakva.com или sales@latakva.com
!!!! ATTENTION !!!!
Both visitors and staff must wear masks when receiving goods.
When receiving the product, a physical distance of 2 meters must be observed,
The allowed number of people at the outlet is 3 people.
Fire resistant tape Multitube (30m roll - 100mm x 4,8mm)
Manufacturer: Carboline
Model: Multitube Wrap
Multitube Wrap is the tape wrapped on the drum. Curled from the drum and cut to size is a fire-retardant intumescent pipe closure device.
Warehouse status: on request
(Price per meter with VAT)
*Product description is based on information provided by the manufacturer about the product. The description and photos are informative, operational changes are possible. In accordance with certain modifications from the manufacturer changes may be made in the description of the product or its parameters.
TECHNICAL DATA:
Fire resistance class: up to EI 120 C/U,UC,C/C
Color: dark graphite
Environmental class: Z1,Z2
Storage temperature range: from + 5 °C to +35 °C
Shelf life, to application with no limit: no limit, recommended no longer than 24 months
Cammercial package: 30 m roll form
Linear dimensions (thk x W): (4,8) x 100 mm
Multitube Wrap is designed to make the fireproof penetration seals through the walls or floors through which passes flammable pipes or non flammable pipes insulated with combustible syntethic foam type FEF (Kaflex or Armaflex) pass. It can also be used to seal the cable bundles passing through the walls or floors.
Technical Approval: ETA-15/0511
CE Mark: 1488-CPR-0529/W
Hygienic Certyficate: HK/B/027/01/2014
Declaration od Confirmity: Nr CARBO/008 17-10-2016
APPLICATION:
Install the pipe.
Prepare the Multitube Wrap to assembly. Number of wraps and the total thickness of tapes necessary to achieve the desired fire resistance is given in the table in the ETA 15/0511 or or in the tables given in the following catalog.
Wrap the tube with Multitube Wrap. The wraps supposed to be wound on each other to produce a combined required thickness in one or two rows always next to each other. Two rows are used when the required width is 120 mm and we have a wrap with a width of 60 mm.
Wounded wrap slide into the hole so as to be located symmetrically in the middle of the width of the wall. In order to protect the wrap from unwinding or slipping out, wrap should be stabilized with electric, elastic band used for the installation electrical cables or other adhesive tape.
Mark the made penetration seal to the pipe with the filled information imprint supplied together with each drum.
Related services categories
In your cart
Your shopping cart is empty
Outlet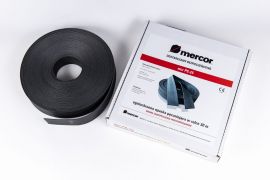 Popular goods