Firestop Collars, Wraps, Tapes and Ventilation blocks
Important information!!! Store work rules during the period from December 19
DEAR CLIENTS!
SIA Latakva Fire Service informs that from December 19:
Distance selling is in progress (ordering goods by phone or ordering by e-mail). Delivery of goods by courier or parcel machines, and you can also pick up goods at 156 Maskavas Street, Riga.
Wholesale trade (goods needed both for retail stores and for economic activities, construction, production, etc.). Delivery of goods by courier or parcel machines, and you can also pick up goods at 156 Maskavas Street, Riga.
Tel.: (+371) 67249249, (+371) 27249249, (+371) 20358170
E-mail: latakva@latakva.com или sales@latakva.com
!!!! ATTENTION !!!!
Both visitors and staff must wear masks when receiving goods.
When receiving the product, a physical distance of 2 meters must be observed,
The allowed number of people at the outlet is 3 people.
Carbowrap CW Pipe Wrap (D55)
Manufacturer: Carboline
Model: CarboWrap
CarboWrap CW is a swelling wrap used for fire protective sealing of flammable tube and metal tube passages through walls and ceilings.
Warehouse status: on request
(Price with VAT)
*Product description is based on information provided by the manufacturer about the product. The description and photos are informative, operational changes are possible. In accordance with certain modifications from the manufacturer changes may be made in the description of the product or its parameters.
Technical documentation
Application: Plastic pipe
TECHNICAL DATA:
Fire resistance class: up to El 120 U/C, Up to El 120 C/U
Environmental class: Z1, Z2
Storage temperature range: from +5 °C up to +35 °C
Application life: Unlimited; however, best before 24 months
Commercial packaging: 1 piece
Types of wraps: CW-25*, CW-32*, CW-40*, CW-55, CW-68, CW-82, CW-90, CW-110, CW-125, CW-135, CW-160
*Alternatively, use Multitube cable wraps pre-cut at the manufacturer's site
CarboWrap CW wraps are supplied as a product ready for use. They are composed of one or more layers of graphite-based swelling inserts, embedded in an outer layer of PVC film or a similar material.
Envelop the CarboWrap CW wrap around the pipe to be protected and cut it to the required length, if necessary. The wrap should be placed in a hole, inside the partition wall.
European Technical Approval: ETA-16/0190
Certificate of Constancy of Performance: 1488-CPR-0580/W
European Declaration of Conformity: CARBO/010-21-12-2016
INTENDED USE:
Fire protective CarboWrap CW wraps are designed for fire protective sealing of installation passages through walls or ceilings through which single or joint plastic pipes (PVC, PP, PE-HD, PE, ABS, SAN+PVC) with diameters up to D 160 mm pass. The thickness of partition walls, through which the systems are carried out shall not be less than:
100 mm – for flammable pipes DN ≤ 110 mm, flexible carton-plaster boards,
150 mm – walls made of concrete, cellular concrete, solid brick, hollow brick or checker brick,
150mm – ceilings – made of concrete or reinforced concrete.
APPLICATION:
Install the pipe.
Place the wrap on the pipe to be sealed. Glue the ends together using a self-adhesive tape overlapping so that the wrap encircles the pipe around the entire circumference of the swelling insert.
Place the wrap in the hole so that it is placed symmetrically with respect to the wall axis (centrally) as shown in Fig. 1 or in the lower part of the ceiling – 10 mm from the lower surface as shown in Fig. 2.
After placing the wrap, the gaps between the wrapped pipe and the hole diameter must be filled with cement mortar.
Mark the transition on the pipe with the information label attached to the CarboWrap CW wrap.
Related services categories
In your cart
Your shopping cart is empty
Novelty
Outlet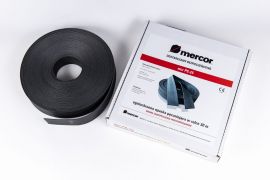 Popular goods