Firestop Collars, Wraps, Tapes and Ventilation blocks
Important information!!! Store work rules during the period from December 19
DEAR CLIENTS!
SIA Latakva Fire Service informs that from December 19:
Distance selling is in progress (ordering goods by phone or ordering by e-mail). Delivery of goods by courier or parcel machines, and you can also pick up goods at 156 Maskavas Street, Riga.
Wholesale trade (goods needed both for retail stores and for economic activities, construction, production, etc.). Delivery of goods by courier or parcel machines, and you can also pick up goods at 156 Maskavas Street, Riga.
Tel.: (+371) 67249249, (+371) 27249249, (+371) 20358170
E-mail: latakva@latakva.com или sales@latakva.com
!!!! ATTENTION !!!!
Both visitors and staff must wear masks when receiving goods.
When receiving the product, a physical distance of 2 meters must be observed,
The allowed number of people at the outlet is 3 people.
CarboCollar CC fire protective Collar (D250)
Manufacturer: Carboline
Model: CarboCollar
The CarboCollar CC is a collar used for fire protective sealing of flammable tube and metal tube passages through walls and ceilings.
Warehouse status: on request
(Price with VAT)
*Product description is based on information provided by the manufacturer about the product. The description and photos are informative, operational changes are possible. In accordance with certain modifications from the manufacturer changes may be made in the description of the product or its parameters.
Technical documentation
Application: Plastic pipe
Application: Metal pipe, with combustible insulation
TECHNICAL DATA:
Fire resistance class: up to EI 120 U/C, up to EI 120 C/U
Environmental class: Z1, Z2
Storage temperature range: up to +5°C, up to +35°C
Application life: Unlimited; however, best before 24 months
Commercial packaging: 1 piece
PRODUCT DESCRIPTION:
The CarboCollar CC collars comprise from one to a few layers of swellable inserts, made on the basis of graphite, placed in an external cover. In the collars with diameter larger than 160 mm the swellable insert may by protected additionally with a woven, cotton net.
The steel cover of the collar is provided with a clamp (used to fasten the collar ends and stabilizing it on a tube) and with assembly handles with holes, through which expanding connectors are put fixing the collar to the partition. The number of the assembly handles is adapted to the collar size.
The collars are delivered as finished products, without expansion joints. The collar is placed around the pipe, closed and then fixed to the partition wall with connectors, the number of which depends on the diameter of the collar
European Technical Approval: ETA-16/0189
Certificate of Constancy of Performance: 1488-CPR-0579/W
European Declaration of Conformity: CARBO/009-21-12-2016
APPLICATION:
Install the pipe
Check that the floor surface around the pipe is flat and free from unevenness, if necessary smooth it out with the Flame Cable Paste A, then remove the collar cotter pin and apply it to the pipe.
Pull the cotter pin through the hole and draw it 180° to secure it.
Attach the whole collar to the wall or ceiling using wall screws or metal expanding anchors (carton-plaster boards). Do not use expansion plugs with plastic components
Any gap between the collar and the wall opening must be: - Filled using the Flame Cabel Paste A up to 5 mm, - Filled using the cement mortar above 5 mm
Mark the doorway with the information badge attached to the CarboCollar CC collar
Related services categories
In your cart
Your shopping cart is empty
Novelty
Outlet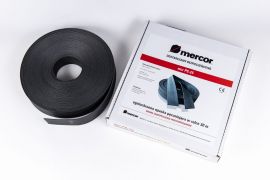 Popular goods