Important information!!! Store work rules during the period from December 19
DEAR CLIENTS!
SIA Latakva Fire Service informs that from December 19:
Distance selling is in progress (ordering goods by phone or ordering by e-mail). Delivery of goods by courier or parcel machines, and you can also pick up goods at 156 Maskavas Street, Riga.
Wholesale trade (goods needed both for retail stores and for economic activities, construction, production, etc.). Delivery of goods by courier or parcel machines, and you can also pick up goods at 156 Maskavas Street, Riga.
Tel.: (+371) 67249249, (+371) 27249249, (+371) 20358170
E-mail: latakva@latakva.com или sales@latakva.com
!!!! ATTENTION !!!!
Both visitors and staff must wear masks when receiving goods.
When receiving the product, a physical distance of 2 meters must be observed,
The allowed number of people at the outlet is 3 people.
Fireproof metal doors EI 30 - EI 60 DECORA
Manufacturer: Asturmadi
Model: FIRESTOP EI 30 - EI 60 DECORA
Fireproof metal doors with decorative coating (wood imitation). Coating shade options and price for a specific performance on demand. The sash is covered with a wooden imitation decorative film, doors frame is painted.
*Product description is based on information provided by the manufacturer about the product. The description and photos are informative, operational changes are possible. In accordance with certain modifications from the manufacturer changes may be made in the description of the product or its parameters.
Door frame
Reduced thermal conductivity galvanized stell 1,5 mm thick. Z-shaped jambs and lintels. Asturmadi special profile. 230x1.5 mm cold -laminated steel plate fixing anchor, especially designed to be fitted in any kind of wall.
Detachable special lintels.
Asturmadi special profile
Door leaf
Galvanized steel sheets 0,7 mm thick, profiler -assambled by double folding and stiching together the LID-TRAY set.High density rock wool insulation 145 kg/m3.Door leaf thickness 51 mm. Surface - decporative wooden imitation film.
Standard accessories
3 mm thick steel hinges, welded to the frame and fixed onto the leaf with M6X16 zinc plated screws.
The lower hinge is self - closing!!!!
15x 2.5 mm graphite intumescent seal.
Fire resistant lock
Sintered steel latch 40x40 brass cylinder lock with 3 keys .Fire resistant black handle.Self-closing hinge, that makes it unnecessary to install a door closer.
CE MARKED, FIRE RESISTANCE according to the European norm EN 16034:2014
Also available other dimension one leaf and double leaf fire doors, with standard equipment or with additional equipment ( antipanic system, door closers, intumescent fireproof grills, other RAL colors etc.)
Related services categories
In your cart
Your shopping cart is empty
Outlet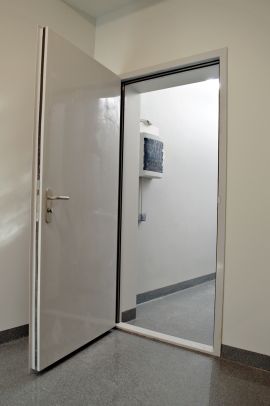 Popular goods