Fire Rated Walls and Partitions
Important information!!! Store work rules during the period from December 19
DEAR CLIENTS!
SIA Latakva Fire Service informs that from December 19:
Distance selling is in progress (ordering goods by phone or ordering by e-mail). Delivery of goods by courier or parcel machines, and you can also pick up goods at 156 Maskavas Street, Riga.
Wholesale trade (goods needed both for retail stores and for economic activities, construction, production, etc.). Delivery of goods by courier or parcel machines, and you can also pick up goods at 156 Maskavas Street, Riga.
Tel.: (+371) 67249249, (+371) 27249249, (+371) 20358170
E-mail: latakva@latakva.com или sales@latakva.com
!!!! ATTENTION !!!!
Both visitors and staff must wear masks when receiving goods.
When receiving the product, a physical distance of 2 meters must be observed,
The allowed number of people at the outlet is 3 people.
Fire Rated Wall Tecbor® A 12 - EI-120 partition
Warehouse status: on request
(Price per m
2
with VAT)
*Product description is based on information provided by the manufacturer about the product. The description and photos are informative, operational changes are possible. In accordance with certain modifications from the manufacturer changes may be made in the description of the product or its parameters.
Solution
Tecbor® A 12 mm boards.
70x36x0,6 mm double metal stud H-shaped.
70 mm (40+30) and 100 Kg/m3 density rock wool.
73x30x0,5 mm metal runner.
3,5x35 mm self-tapping screw.
M6 metal plug.
Tecbor® joint paste.
Test
Standard :UNE EN 1364-1
Laboratory :CIDEMCO
Test Nº :17826-1/-2 M1
Non-structural walls, which separate fire areas, should be fire resistant as stipulated in standard EN 1364-1.
When in fire resistance tests for non-structural elements one edge is left free (Part 1: Walls), the standard allows increasing the width.
With regard to increasing the height, the standard is clear and precise. When the test is run at least at 3 metres high, it may be increased up to 4 metres.
Very often, internal partitions are higher than 4 metres. mercor tecresa® have been the first to develop large partitions and offers the most efficient and convenient solution for this type of works.
Besides, penetrations produced between different fire sectors must be sealed off; for example, in the case of services crossing. Check the Tecsel® Sealing System catalogue to find the most suitable solution.
Description of assembly
Fix 73x30x0.5 mm runners with M6 metal plug every 250-300 mm. Finish off the metal structure with 70x36x0.6 mm double studs arranged in "H" position with a 610 mm inter-axial distance.
Place rock wool panels between studs. Then fix Tecbor® A 12 mm boards to both sides with 3.5x35 mm self-tapping screws every 200-250 mm.
Finally, cover board joints and screw heads with Tecbor® joint paste.
Related services categories
In your cart
Your shopping cart is empty
Outlet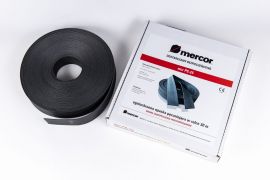 Popular goods